Looking after You and PKU – Exercise Benefits
Written by Cambrooke
7 minute read
Views from Louise Lamaris, Fitness Trainer
As a PKU adult, working mum with a busy lifestyle and currently home-schooling, I understand the challenges of keeping on top of juggling work, life, parenting etc. plus finding the time to try to focus on ourselves and keep our phe levels in desired range. This can often lead to stress and anxiety, which is noticeably heightened when phe levels aren't fully controlled.
One way I manage this is through exercise. My main hobby is distance running, I run most days and enjoy being outdoors. My experience and background of growing up with PKU combined with my passion for health and fitness stems not only from my natural enjoyment for it, but also because of the noticeable benefits of keeping active has on mental health and wellbeing which in turn can help balance the pressures of everyday life.
My passion for wanting to help people, by sharing and promoting these benefits, and to achieve their fitness goals, has lead me to a career in health and fitness. I started out as an exercise to music / fitness instructor, then took my studying further to gain a Level 3 Personal Training qualification.
I am pleased to share a series of blog posts, focusing on the benefits of exercise, my experience of balancing an active lifestyle with managing PKU, plus how to stay motivated during difficult times and during periods of bleak, cold weather. Along with tips and tricks for creating your own workouts and staying active.
Benefits of movement and exercise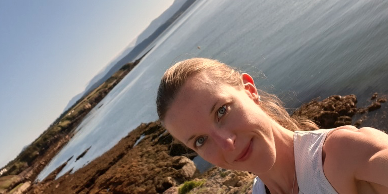 Many of us within the PKU community understand and can relate to how symptoms of high phe levels or living with the restricted diet can impact mental health. Whether you're a patient, a parent or carer of someone with PKU, as with other conditions and aspects of life, there may be times when you feel the struggle to keep the condition and symptoms under control and not let it control you.
Many other factors can also lead to stress and anxiety disorders, which I find these can also have an impact on my phe levels as well as being heightened by uncontrolled phe levels too. This is when we can sometimes find ourselves in a bit of a vicious circle.
Also, I sometimes hear comments that following a PKU diet limits our physical ability to achieve fitness goals. I have received comments myself around the misconception of PKU and fitness…
such as…
'How are you able to lift weights, train and have the stamina and endurance to run marathons when you follow a low protein diet?'
My answer is usually …
'PKU is a low phenylalanine vegan type diet. Our prescribed formula provides required amount of other proteins / amino acids and nutrients, to provide us with as much adequate required nutrition as those without PKU.'
My studies and career in fitness has enabled me to better understand how healthy and beneficial the PKU diet is. The diet provides various nutrients to fuel optimum levels of physical performance and fitness. It can be really easy to fit the recommended 5 portions of fruit and veg within the PKU diet – check out the useful cooking demos and resources by Cambrooke which proves this!
Along with individual measured required amount of protein substitutes to be used for body and brain functions, providing energy, focus and helping to repair, grow and maintain muscle as well as optimising concentration and balancing mood.
Challenges
One thing that can be challenging, is achieving the correct balance of activity intensity with the nutrient requirement to achieve stable phe levels within desired range. By this, I mean we may notice links between the type, intensity and duration of exercise and energy consumption to avoid cactabilsm (which causes high phe from muscle break down).
Therefore, as with everyone, quality, quantity and timing of nutrition is just as important for our bodies as well as our mind. This emphasises the importance to re-fuel with healthy carbs, including fruit and veg and prescribed protein substitutes.
I certainly notice, reduced energy, performance and slightly increased post-exercise muscle soreness if I have missed any protein substitute. I aim to time my substitutes within a short time frame post – exercise and evenly throughout the day for immediate and on-going recovery, and protein synthesis. Plus consistent mental focus.
Although following the low phe diet and taking supplements has noticeable benefits on our physical and mental health, we can still experience periods of low mood and mental health symptoms. Especially during difficult times and stressful situations.
It is important to be kind to ourselves and make time to focus on our own health and wellbeing.
Looking after ourselves will help us look after others and manage our every-day responsibilities and challenges of life, work, education, relationships and to generally thrive.
There are techniques to help manage our health and wellbeing including, exercise, outdoor activities, positive thoughts, keeping connected and acts of kindness.
When I say exercise, this doesn't mean hours of intense exhausting sessions in the gym. Any type of daily activity or movement that raises your heart rate contributes to activity and maintaining a healthy lifestyle.
Tips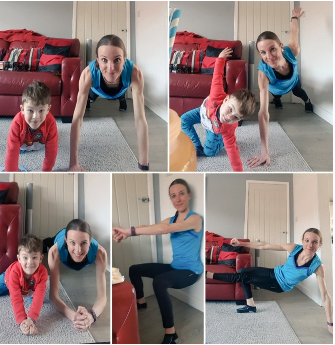 So as I sit here sipping my first PKU supplement of the day, after an early morning run and exercise session, I can straight away feel the benefit of this energy boost for focusing on the day ahead and would like to share some top tips with you…
Try to fit in at least 150 minutes of moderate intensity activity a week or 75 minutes of vigorous intensity activity a week (nhs.co.uk)

Daily cardio activity pulse raining activity: i.e. walking, jogging, cycling, dancing etc.
More vigorous activity; running, HIIT, circuit sessions etc.
At least 2-3 strength and conditioning activities per week: i.e. weights; dumbbells, barbells, household objects, resistance bands, or body weight.

Find activities you enjoy and find time to fit them into your day.

Perhaps a hobby and even combine with a family activity

Active games
Park play
Dancing
Follow work out videos
Play sports
Take the stairs
Dog walks

Incorporate short bursts of exercise between daily tasks, examples…

Keep some weights or resistance band by desk; get in a few reps 10 – 15 targeting various muscle groups between meetings, email, home schooling tasks etc.
Get some body weight reps in; squats, planks, press ups whilst waiting for kettle to boil during coffee breaks

Get the family involved. Make it fun. Be Creative.
Join a club or connect virtually with others.

Although in the current situation, restrictions means we are unable to attend usual mixed group exercise or attend the gym, don't let this demotivate you! There are alternatives, including online virtual exercise sessions, videos and various resources.
Uncertain times, lockdown, isolation and disruptions to usual routines has led to many losing the motivation to exercise, try not to let it de-motivate you.
As a fitness trainer, I hope to help keep you motivated.
I am pleased to work with Cambrooke on providing you with virtual online resources to follow for exercise tips and to share community motivation. You may recognise some from the 'Thrive in 5' booklet: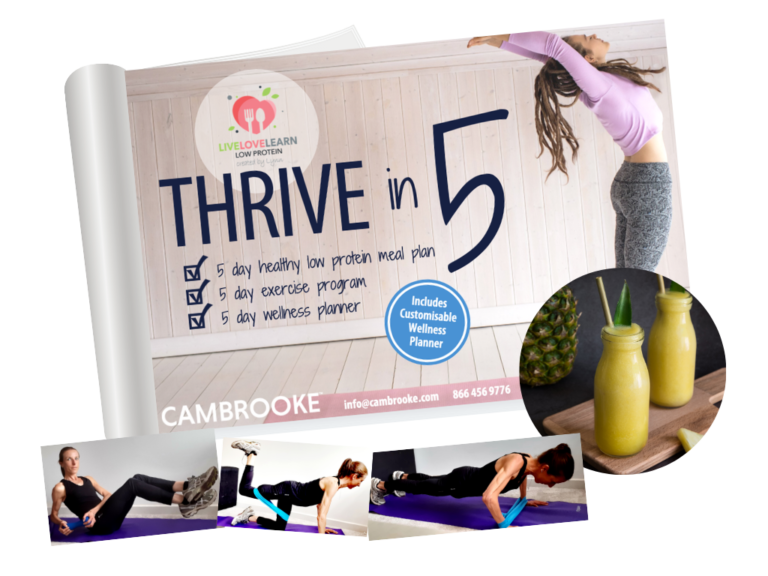 Request your copy: ukinfo@cambrooke.com
Keeping smiling, keep moving, stay active and stay safe!
Best Wishes Louise